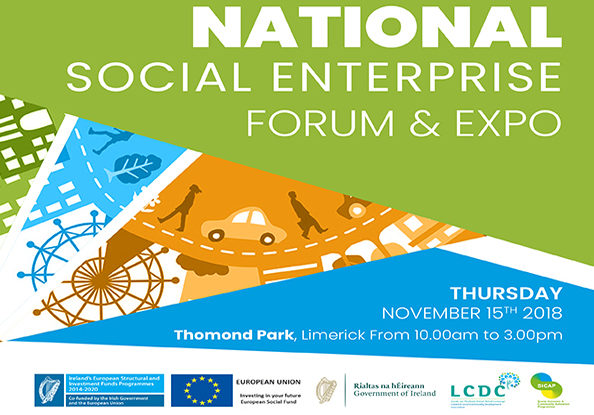 Are you involved with a social enterprise or considering setting up a social
enterprise?
Social Enterprise Forum and Expo takes place on November 15th in Thomand Park, Limerick.
The Forum and Expo will provide an excellent opportunity for Social Enterprises in Ireland to meet,  network, exchange ideas and contribute to the discussion on the development and support of the Social Enterprise sector in Ireland.
• Social Enterprise Exhibition • Expert Speakers • Social Enterprise Case Studies • Discussion Forum • Social Enterprise Visits
Mayo North East LEADER Partnership Company are one of the organising partners and will have a stand at this event to showcase Social Enterprises in North/West Mayo. Please bring your organisation promotional flyers with you on the day for that stand. If you cannot attend and would like to display information, please post them to me before the end of this week: Rita Hopkins, Mayo North East Leader Partnership Company, Lower Main Street, Foxford, Co Mayo or drop a batch in an envelope marked for my attention to the Mayo North East office (building with the green door on the right before the Mill and Leisure Centre!) between 9.30am and 5.30pm.
If any of you would like to display more information about your social enterprise you can book a stand, please contact Michael Gleeson to do so: mgleeson@Paulpartnership.ie <mailto:mgleeson@Paulpartnership.ie>
The Eventbrite booking link for the National Social Enterprise Forum and Expo is underlined below. Please book in all staff/board that wish to
attend. The event is free. Full list of speakers is attached to this email.