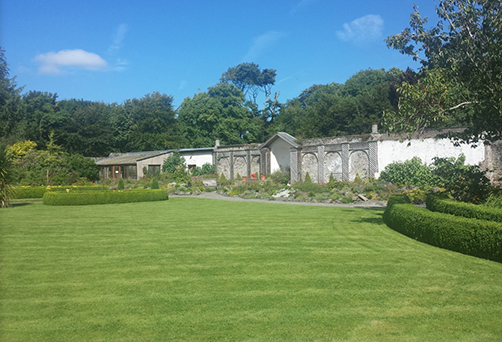 2019 has been a record breaking year for visitors to the North Mayo Heritage Center with 23,987 recorded visitors during the year which represents an 18% increase on the previous year. This is all the more remarkable given that in 2016 there were only 7,500 recorded visitors to the The North Mayo Heritage Centre.
Visitors have been recorded from all over the world as they engage with the center to undertake research into their families genealogy. The center currently holds 1.2 million records for people from N. Mayo. 2019 saw a steady increase in visitors from the UK who were keen to establish their 'Irish' credentials as they've decided to make an application for an EU passport.Visitors were also keen to explore the looped walks around the Enniscoe Estate and The Secret Garden Cafe. The Cafe received a number of reviews in The Irish Times Weekend section during the year which brought many new visitors to the center.However, it was the family events such as The Crossmolina Christmas Market and the BioDiversity Blitz which proved most popular with visitors.
'We are delighted with the success of 2019' said Hugh Trayer, Manager of the North Mayo Heritage Center, 'it's been an extremely busy year with over 20 events, 7 exhibitions, 22 workshops, and many talks and lectures throughout the year.'Tours from around the country have also seen a steady increase as more and more groups and active retirement groups choose to stay in the Ballina area and then organise day tours taking in some of the many attractions in the area. Last year the centre was visited by groups from nearly every county on the island of Ireland. This is a trend which looks like will continue to develop further.
Plans are now being finalised for the 2020 season and these will be announced in March. 'It's looking very exciting for 2020, we have a number of new events coming along as well as all the popular ones such as The Enniscoe Easter Egg Hunt in April and of course BOO!!! at Halloween' said Hugh.
2020 is also the year that the Organic Garden will be celebrating 25 years of being certified organic with the Organic Trust of Ireland making it one of the oldest certified organic gardens in Ireland. The garden will be very busy this year with the planting of the first organic hop crop. In three years time when the crop reaches maturity it will be harvested to make an organic beer – the first of its kind in Ireland.
To enquire further about a tour party visiting the North Mayo Heritage Center and Enniscoe House email nmhmanager@gmail.com or call 096 31809.