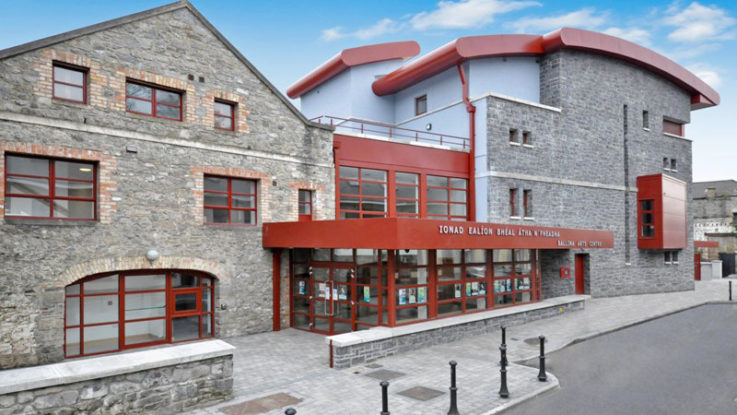 Music:  ABBA SENSATIONS
Saturday, 1st February 2020, 8pm – 10:30pm
One of the leading ABBA Tribute Shows in the UK and Ireland, ABBA Sensations brilliantly perform ABBA's timeless classics, bringing you the authentic ABBA sound … with stunning live vocals, beautiful harmonies, musicianship and musical arrangement.
This superb show features choreographed ABBA-esque dance routines, fabulous replica ABBA costumes, as well as authentic lighting and production.
Incorporating tongue-in-cheek Swedish humour together with audience participation in an electrifying and dynamic performance, this is a fantastic show, thrilling audiences throughout the UK and Ireland with their stunning tribute to ABBA.
Tickets: €15. Early booking advised.
Theatre: TINTOWN
Tuesday,  4th February, 8pm – 10pm
Tintown, a one-man-show written during a Theatre Artist Residency in Sligo's Hawk's Well Theatre, is about a Dubliner who joined the IRA as a young man in the 30's, was interned during WW2 and bore witness to the IRA's decline and eventual collapse within the Curragh Camp. It encompasses our violent past, the development of socialism and fascism within Ireland, and the political contradictions and absurdities of the time Meticulously researched through access to rare internee interviews, this piece was staged in November 2016 as a work-in-progress reading with a further two weeks development carried out thanks to Arts Council funding in summer 2018.
Written and performed by Bob Kelly Directed by Niall Henry
Tickets: €18 / €15. Early booking advised.
'Mesmerising' – Eoin McNamee, Irish Times.
Theatre: THE POET'S BAR by Tommy Cooke
7th – 9th February 2020, 8pm
Tommy Cooke presents a play set in a bar in the 1960s where stories are told in verse and song during a night of music, song, recitation and storytelling, encompassing home, coming home, leaving home and the characters of home. Featuring a variety of local performers, this is a show not to be missed!
In aid the Tony Golden Memorial Park
Tickets: €10 Early booking advised.
Theatre: THE IMPORTANCE OF BEING EARNEST
13th – 16th February 2020, 8pm – 11pm
On the 125th Anniversary of it's stage debut, Riverside Theatre group take on Oscar Wilde's brilliant comedy 'The Importance of Being Earnest'. The play takes a satirical look at the lives of two bachelor friends, the adorable dandy Algernon Moncrieff and the utterly reliable John Worthing J.P who lead double lives to court the attentions of the exquisitely desirable Gwendolyn Fairfax and Cecily Cardew. The gallants must then grapple with the riotous consequences of their deceptions, and with the formidable Lady Bracknell.
Considered Wilde's witty masterpiece, this production featuring an all local cast, produced by Olivia Loftus and directed by Ray Collins is not be missed!
Theatre: CROWMAN
Friday, 21st February 2020, 8pm – 9:45pm
Crowman is Dan Lonergan's account of the hilarious characters that inhabit his life on a daily basis and a true love story that never was. By turns poignant and comic, Kenny carries the audience on a roller-coaster ride from his childhood to middle-age, from the hurling pitch to the pub and from one uproariously funny character to the other. It is about lost love and the sense of belonging and not belonging to a small community. Most of all it is about the humanity and decency of the local characters found in every rural village and town in Ireland.
As Dan himself surmises 'Some people never had the dance that I had and some people never hear the music.'
"Kenny is brilliant in the role" – The Irish Examiner
Tickets: €18 / €16. Early booking advised.
Theatre: WANTED – ONE BODY
22nd – 23rd February 2020, 8pm
The Windmill Players present an hilarious murder-mystery farce, set in 1921 in the dilapidated mansion of the recently departed, but not greatly lamented, Charles Barraclough. On the stormy night that the will is read to the family and household staff, we learn that the bulk of his fortune has been split between the servants, setting the house in turmoil and uproar.
Charles' devious daughters are furious and plot and scheme to try to hang on to 'their' fortunes.  But something evil is afoot!  There are murders, sliding panels and howls in the night. The plot thickens and twists and turns!
Tickets: €12 / €10. Early booking advised.