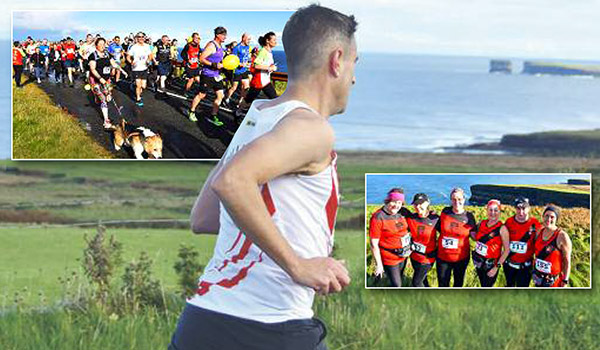 The sun shone on beautiful Ballycastle, for the annual Céide Coast Half Marathon and 10K on Saturday, October 12, ensuring that the 300-odd runners who partook in the event saw North Mayo's breath-taking coastal scenery at its very finest. The race, hosted by Ballycastle Athletic Club and sponsored by Nally's of Ballymahon, Longford, saw registrations this year jump by a whopping 69 per cent, delivering an estimated €60,000 into the local economy and cementing the importance of the event to North Mayo. Over half of the runners travelled from outside the county, with roughly 10 per cent travelling from overseas to participate. Numerous positive reviews on the event's Facebook pages suggest many will return.
The half marathon route is unique, bringing runners right onto Downpatrick Head within inches of the cliff edge, for an unrivalled view of the world-famous Dún Briste sea-stack. This year, the club also made a conscious effort to reduce plastic waste with the use of compostable cups along the route. 173 runners registered for the half marathon, with 148 taking on the challenging 10km route. A further 50 registered to participate virtually from other locations, bringing the total number of registrations from 207 in 2019 to 371 this year.
Race director Michael Kelly said: "We were thrilled to get such a great turnout this year and so many visitors. Ballycastle is a small community, and the Céide Coast Half Marathon would not be possible without the support of our neighbouring communities along the Céide Coast, from Killala to Lacken to Kilfian to Belderrig. I want to thank everyone who helped out over the past year and on the day to make the event such a success, and also a huge thank you to our club officials Maura Fox, Mary Carden, Margaret Thomas, Oliva McDonnell, Gillian Grier and Anthony Gardiner."
Anne-Marie Flynn, manager of Mayo North Promotions Office said, "We identified this event last year as a potentially significant driver of tourism into the North Mayo region and allocated resource from our office to work with Ballycastle Athletic Club and promote the event to a targeted local, national and overseas audience. The number of visiting runners speaks for itself, and unanimously positive feedback from the event is a credit to the organisers and proves that the Céide Coast is more than capable of delivering a professionally-run, highly-rated event that can hold its own with any better resourced event in the West of Ireland. It now needs additional support in order to grow, but given its success, it is an ideal event for any sponsor to associate themselves with."
The 2020 Céide Coast Half Marathon and 10k will take place on Saturday, October 10, with registration now open. Anyone interested in sponsorship opportunities can contact Michael Kelly by emailing ceidecoasthalfmarathon@gmail.com.